Geographic Setting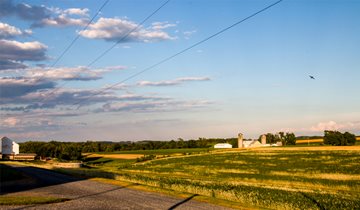 Located in the northeastern United States, Lebanon County is within 240 km. of Washington D.C., New York City, and Philadelphia. Our county has an area of 940 square kilometers and, in 1990, supported 113,744 people. The county is comprised of 26 municipalities, each of which has its own independent governing body.

Blue or Kittatinny Mountains to the north and South Mountains to the south physically border the county, and the valley between these mountains supports the agriculture and industry of the county. The valley is farmed intensively, and the soils are some of the most fertile and productive in the entire United States.

The southern half of the county has a gentle, rolling surface which ranges in elevation from 450 to 649 feet above sea level. The northern part of the county consists of a series of rather steep hills ranging from 40 to 100 feet above the general level of the valley, 450 to 600 feet above sea level. The South Mountain range is from 100 to 500 feet above the adjacent territory and has an elevation of 700 to 1,000 feel above sea level.

The county, sheltered by the Blue Mountains, we all enjoy the mild climate, with the average temperatures in July being 22.5 degrees C, and a January temperature of -2 degrees C.
The valley is split by major highways, with the City of Lebanon and many of the small towns located along this highway. Major employers in the Lebanon Valley include: The Department of Military and Veterans Affairs, VA Medical Center, Lebanon County Government, Tyco Electronics, The Good Samaritan Hospital, Weaber, Inc., Cornwall Lebanon School District, Philhaven Hospital, Lebanon School District, Bayer Consumer Care, Supreme Mid-Atlantic Corporation, Sherwin Williams Distribution Center, just to name a few.

The drainage of much of the county is westward into the Susquehanna Basin which flows into the Chesapeake Bay. In the eastern section of the county, water flows into the Schuylkill River Basin toward Philadelphia. The Swatara Creek, part of the Susquehanna Basin, is the most significant stream in the county and has the largest watershed.

Lebanon County offers recreational diversity to its residents and the people of south-central Pennsylvania. The mountains are home to numerous hiking trails, including the famous Appalachian Trail, a 3280 km. long trail running from Maine to Georgia, 24 km. of which are in Lebanon County. In addition to hiking, the mountains offer sightseeing, photography, and hunting opportunities. The valley provides swimming, tennis, golf, baseball, fishing and picnicking.